Publication date: 18 February 2022. Administrator
February 18, 2022
In the period from February 14 to February 18, 2022, the Director of the Institute of Geophysics and Engineering Seismology named after V.I. A. Nazarov of the National Academy of Sciences of the Republic of Armenia (IGIS NAS RA) John Kostikovich Karapetyan.
During the meeting with the leadership of the GC RAS, the further development of the Gyulagarak geomagnetic observatory (Republic of Armenia) created in 2019 (the GC RAS and IGIS NAS RA) was discussed with the aim of bringing it to the INTERMAGNET international standard.
As part of the development of the Gyulagarak observatory and the implementation of the Roadmap for the implementation of the provisions of the Agreement on Scientific and Technical Cooperation between the Russian Academy of Sciences and the National Academy of Sciences of the Republic of Armenia, the issue of conducting high-precision detailed aeromagnetic survey of the observatory territory using unmanned aerial vehicles was considered.
A meeting was held to discuss the research program of the project "Scientific Group of Mathematical Geophysics and Geoinformatics", funded by the Science Committee of the Republic of Armenia and implemented on the basis of IGIS NAS RA with scientific advice from the GC RAS. Also, promising areas for the development of cooperation between the GC RAS and IGIS NAS RA were discussed.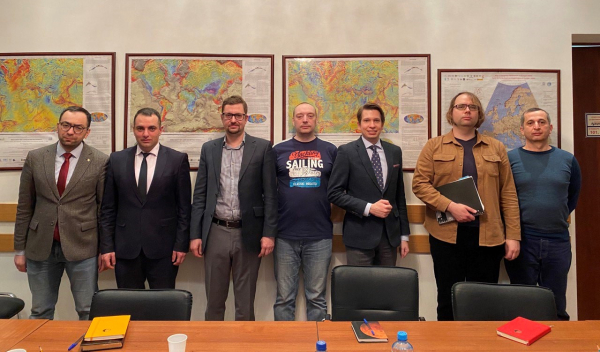 From left to right: B.A. Dzeboev, J.K. Karapetyan, A.A. Solovyov, A.A. Grudnev, R.I. Krasnoperov, R.V. Sidorov and B.V. Dzeranov